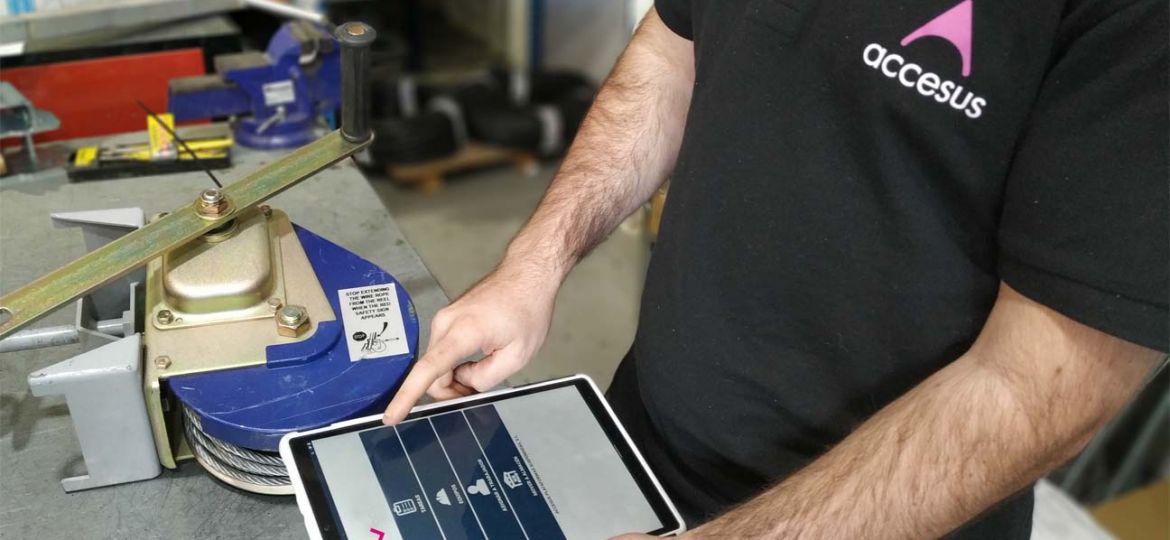 V.acces is the new equipment management software developed by Accesus for Accesus equipment. The objective of the tool is to offer the client the greatest possible ease when it comes to maintaining their PPE and machines and is aimed at maintenance and property companies.
In addition, the new software allows our customers, by entering the serial number digits of the equipment, to display the information they need to know if they are performing proper maintenance.
What options and possibilities does the equipment management software offer?
Have control over the date of fabrication of the product.
Indicates the years of useful life of the product.
It informs about how to know when to perform maintenance on each product.
It allows the client to contact us and notify us, in case of doubt, so that we can advise them on what to do with each PPE or Accesus machine.
What does the new software solve?
Saves waste of material, time and economic productivity.

It improves disorganization, which affects material and human resources.
Helps to minimize the loss of customers, due to delays in the execution of works or damage to the business image.
It solves the inappropriate use of the equipment, such as the use of an incorrect, expired or seriously defective material.
Minimizes the risk of accidents, which affects the safety and integrity of all workers.
What can you do with V.acces?
Have the information of your PPE centralized and updated.

Identify equipment quickly.

Receive notifications of the status of the equipment and expiration dates.

Review the material from your mobile or tablet.

PPE and machines can be assigned to different people.
How do you access the new equipment management software?
From the computer, via the web. Restricted access to restricted users.

Mobile / tablets.

With Android operating system. It allows online and offline work and offers great mobility and versatility to review.

It is downloaded from Google Play and the mobile application can be accessed with the same username and password as on the web.
The V.acces database is always up-to-date and accessible to the customer. It offers the information in real time and sends notifications to the clients of the equipment that has to be carried out or those that are already reviewed.
V.acces offers basic equipment information, allows you to store photographs, documentation and equipment reports. It indicates the current status of each team individually and has a history of past and upcoming revisions.