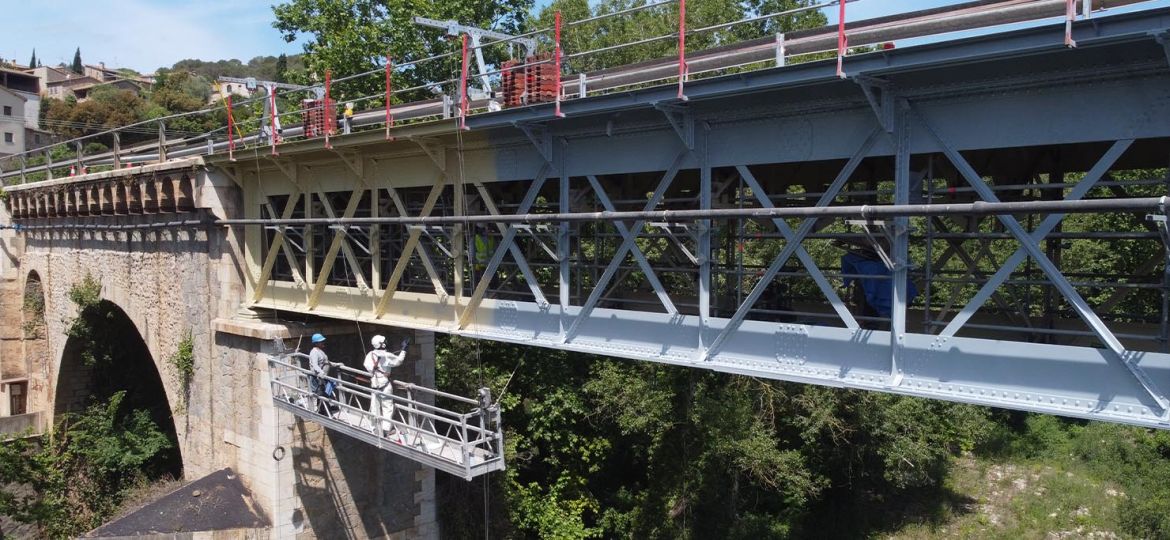 When we talk about working at heights and rope access, there are often doubts as to whether they are the same thing or whether there are differences between the two. In today's article we will make it a little easier for you and help you to identify these differences and understand the differences between working at height and working at height.
Work at height
When we refer to "work at height" we are talking about a set of procedures that are carried out at a height of 2 metres or more above the ground and where there is a risk of falling and harmful consequences for the technician carrying out the work (which could even result in death). For this reason it is really important to have the correct personal protective equipment (PPE) for this type of work.
Some examples of situations where you can carry out work at height are:
Work on roofs or decks: work where a lot of planning is needed to avoid accidents.
Working with tubular scaffolding (structures fixed to the ground) or suspended scaffolding (structures suspended at great heights).
Work on ladders: these can be extendable or scissor ladders.
Work on lifting platforms: these are used to move workers.
These different working methods are usually used for maintenance, cleaning, repair and rehabilitation of existing buildings or in new constructions and large works. In addition to being certified to work at heights, the technician will often be required to have additional certifications for the correct use of the equipment to be used.
As mentioned above, this work involves a significant risk for the technician or worker, and must be carried out with the so-called "safety kit", which includes the individual protections necessary to protect the worker in complete safety. It is necessary for this equipment to have a fall arrest system (PPE), which allows the technician to have his hands free to work, and at the same time, to maintain his safety against possible falls that could put his life at risk. It is also important to highlight that prior training to carry out this type of work is key to acquiring the basic and necessary knowledge that allows the technician to work with total confidence and safety, such is the case of the training course given by Gravitat on working at heights, located in Barcelona.
Vertical Work
With this term we identify those works that use a series of access and positioning techniques with ropes in places that are difficult to access. This type of work allows the technician to carry out different manoeuvres to access the work site when the use of machinery is practically impossible. Although for this type of manoeuvres it is essential to have specific training in rope access work, which can be simply a 3-day basic training course or if you want to be a more experienced technician with greater job opportunities you can obtain your IRATA certification, which is the highest safety standard for working suspended from ropes.
The main difference between vertical work and work at height is the use of ropes by the technician to access the work area. In rope access work, a minimum of two ropes are used, which provides greater safety for the technician or worker. The first of these ropes is known as the "working rope" and is used as a means of ascent, descent and support. On the other hand, the second rope is known as the "safety rope" and is used as a reinforcement in case of damage or unforeseen events with the first rope. In some cases, there are jobs that must be carried out while handling loads, so it is necessary to add a third rope that can be used to support the technician in order to move the load without any danger to the technician and to carry out the work in the most appropriate way.
The technician needs to use specific material to carry out the work efficiently and without endangering his safety. Therefore, the proper "safety kit" for rope access work should include PPE to work safely while suspended: a suspension harness, rope clamps, ropes, slings and helmets.
What protective equipment do you need to use for each?
The A600 harness would be a very good example of a harness for working at height, as it is a high-end harness with padding, breathable waistcoat, lightweight automatic buckles and fall indicators. It is a very complete harness that fulfils the fall arrest function thanks to the dorsal and front anchorage points, as well as the retention function due to its anchorage points for positioning on rails. All this makes it ideal for equipping workers working at heights of more than 2 metres, for example on suspended scaffolding, ladders, roofs, shafts or vehicles.
On the other hand, the A71 is a very complete and competitive harness for those users who carry out suspended work, such as vertical workers in the construction sector, cleaning and rehabilitation of buildings or tree care or pruning work. The A71 suspension harness has 2 anchorage points (dorsal and front) and the suspension anchorage point for working in a seated position. It also has a pair of side anchorage points located on the belt that would fulfill the positioning function and several tool holders ideal for attaching all kinds of work tools to the belt and thus prevent them from falling when handling them when working at height.
And to complete the safety equipment for your work at height or vertical works, from Accesus we have a wide range of fall arrest lanyards (single, double, elastic, with load capacity up to 140 kg and short with minimum fall distance), retractable fall arresters, connectors, anchor points, tool holders and transport bags to equip you with total safety for your work at height and / or vertical works.
Article in collaboration with the training centre GRAVITAT.