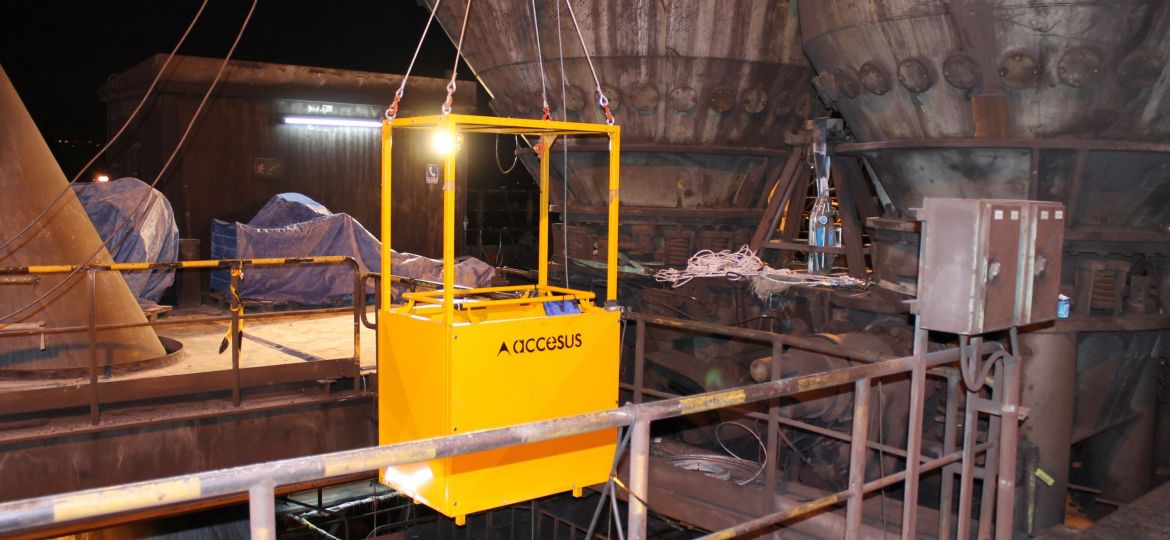 There are many of you who often consult us about the use of the Hanging Crane Basket.
Although it is a widely extended equipment that we can easily see in construction sites and industry, it raises many doubts regarding its use and application.
We recently resolved the doubts about whether Can a crane basket be CE marked?
In this article, we are going to briefly explain the regulatory use of this equipment, when we can use them and when not.
REGULATORY FRAMEWORK OF THE SUSPENDED CRANE BASKET
We must be clear that the use of any work equipment and, in particular, load-lifting equipment (such as lifting cranes), are regulated, in Spain, by Royal Decree RD1215 / 1997, of July 18, which establish the minimum health and safety provisions for the use of work equipment by workers.
In Annex II, we find the following clarifications: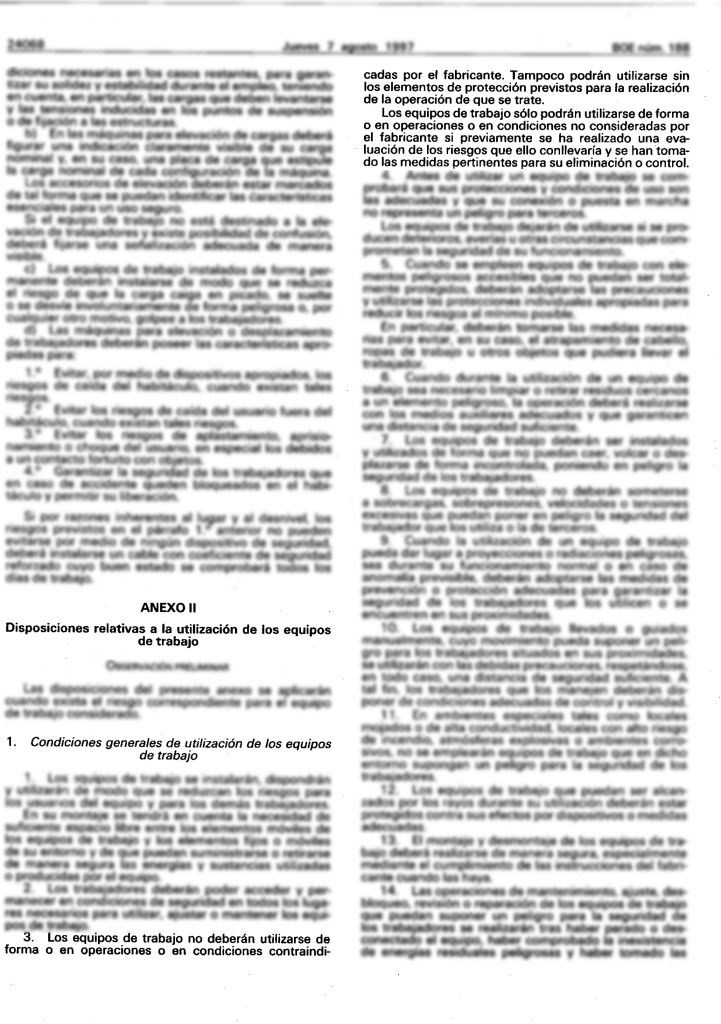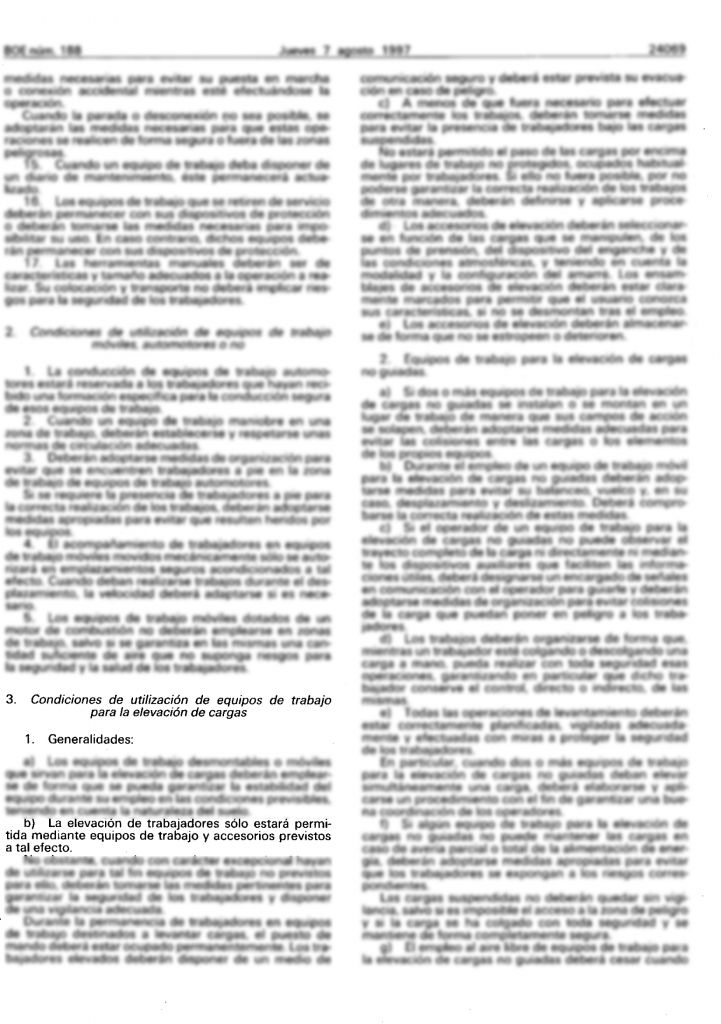 1. General conditions of use of work equipment:
The work equipment must not be used in a manner or in operations or in conditions contraindicated by the manufacturer. Nor can they be used without the protection elements provided for the performance of the operation in question.
The work equipment may only be used in a manner or in operations or in conditions not considered by the manufacturer if an evaluation of the risks that this would entail has been previously carried out and the pertinent measures have been taken for their elimination or control.
3. Conditions of use of work equipment for lifting loads:
Generalities:
b) The elevation of workers will only be allowed by means of work equipment and accessories provided for this purpose.
In addition, in Royal Decree RD 1627/1997, of October 24, which establishes the minimum safety and health provisions in construction works, we find other considerations.
In its Annex IV, PART C it is established that: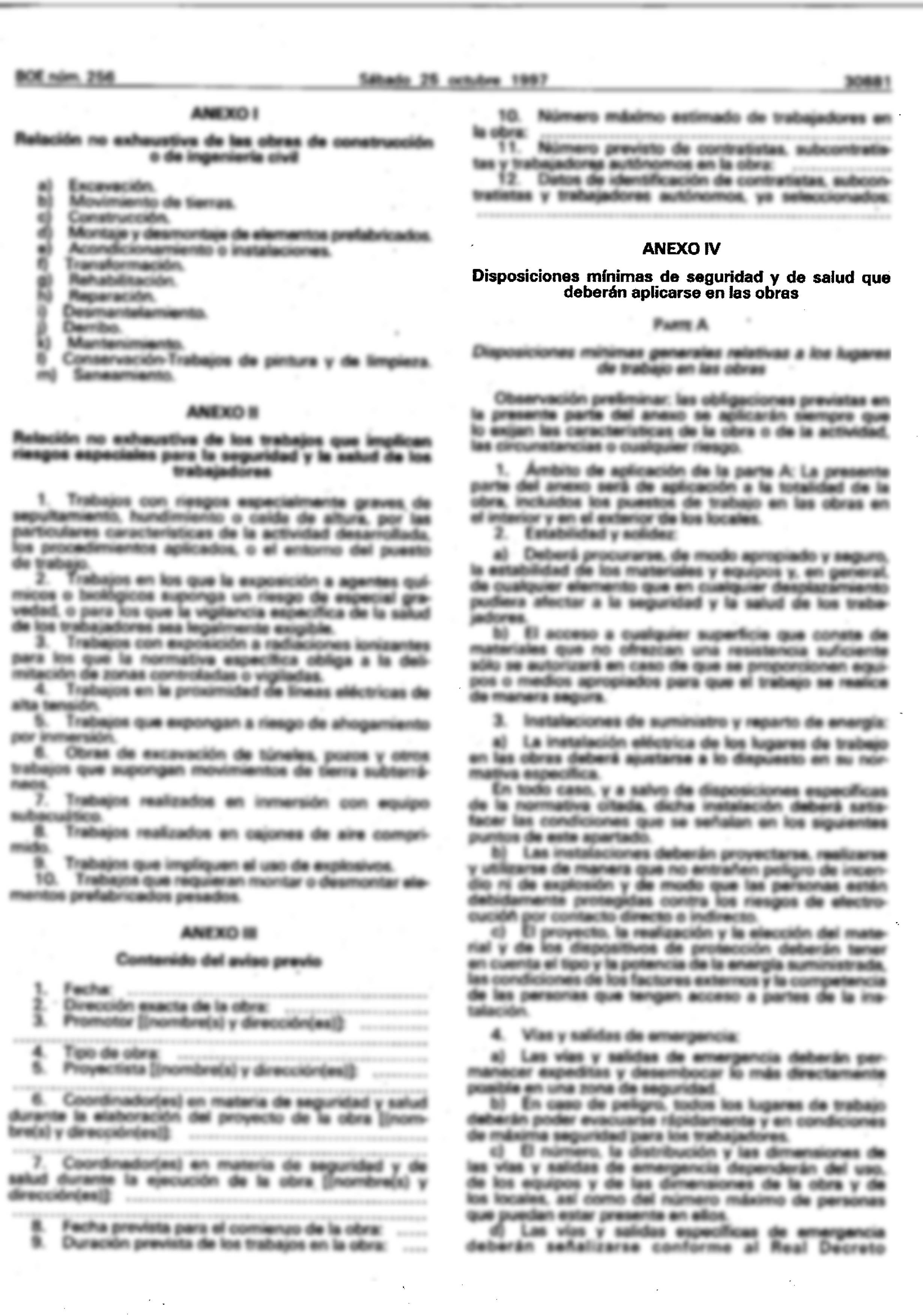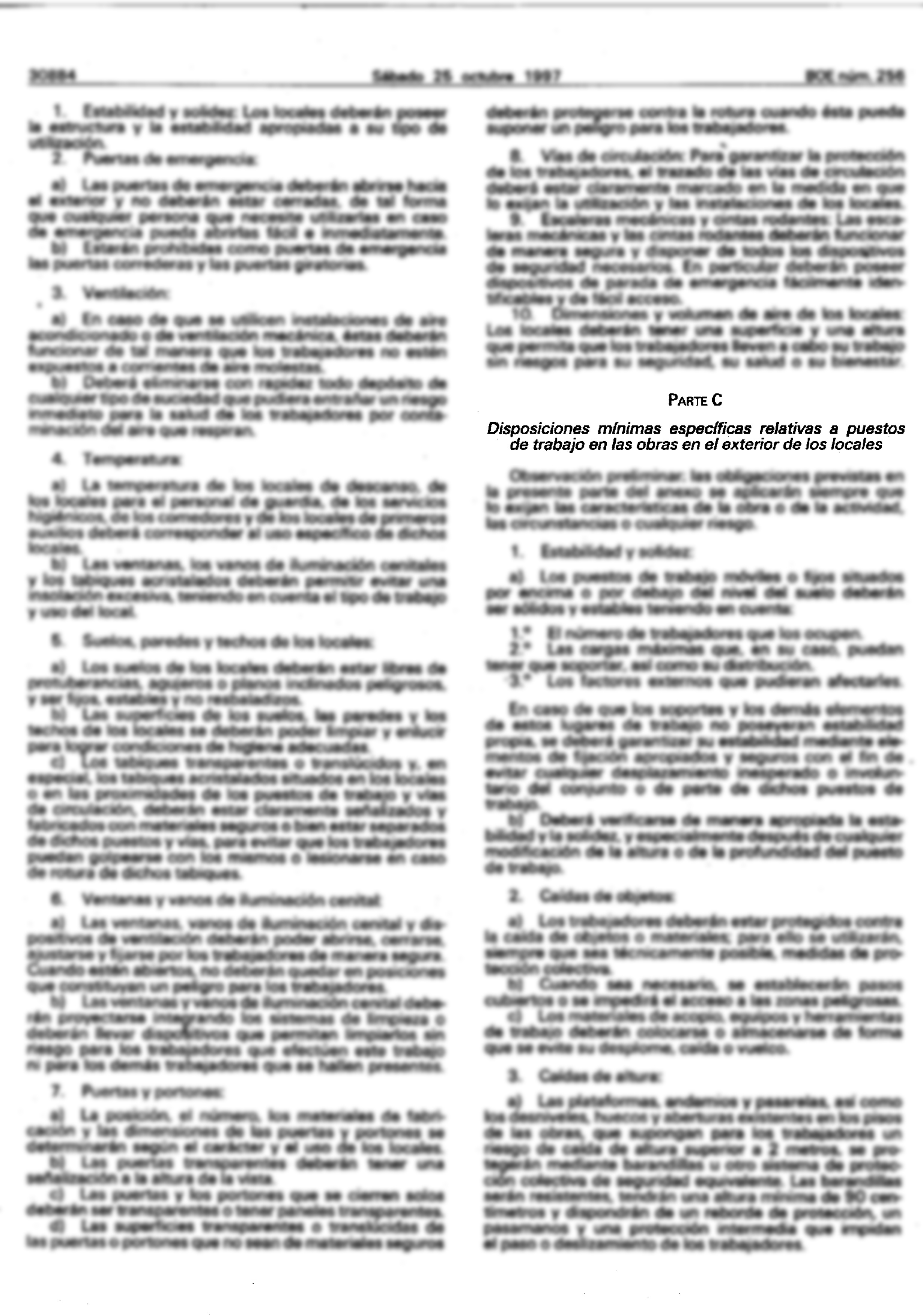 Lifting devices:
d) Lifting devices, as well as their accessories, may not be used for purposes other than those for which they are intended.
Installations, machines, and equipment:
b) Facilities, machines, and equipment, including hand tools or non-motorized tools, must:
To be used exclusively for the works that have been designed.
From what we have seen so far, it is clear that both decrees prohibit the use of cranes to lift suspended baskets since:
– The crane is not working equipment that has been designed for that purpose.
– We cannot use a crane, designed to lift loads, to lift people.
THERE ARE EXCEPTIONS FOR THE USE OF THE HANGING CRANE BASKET
In the same Annex II, of RD1215 / 1997, cited above, the conditions that must be met are established when exceptionally, a work team not planned for this purpose has to be used to lift people: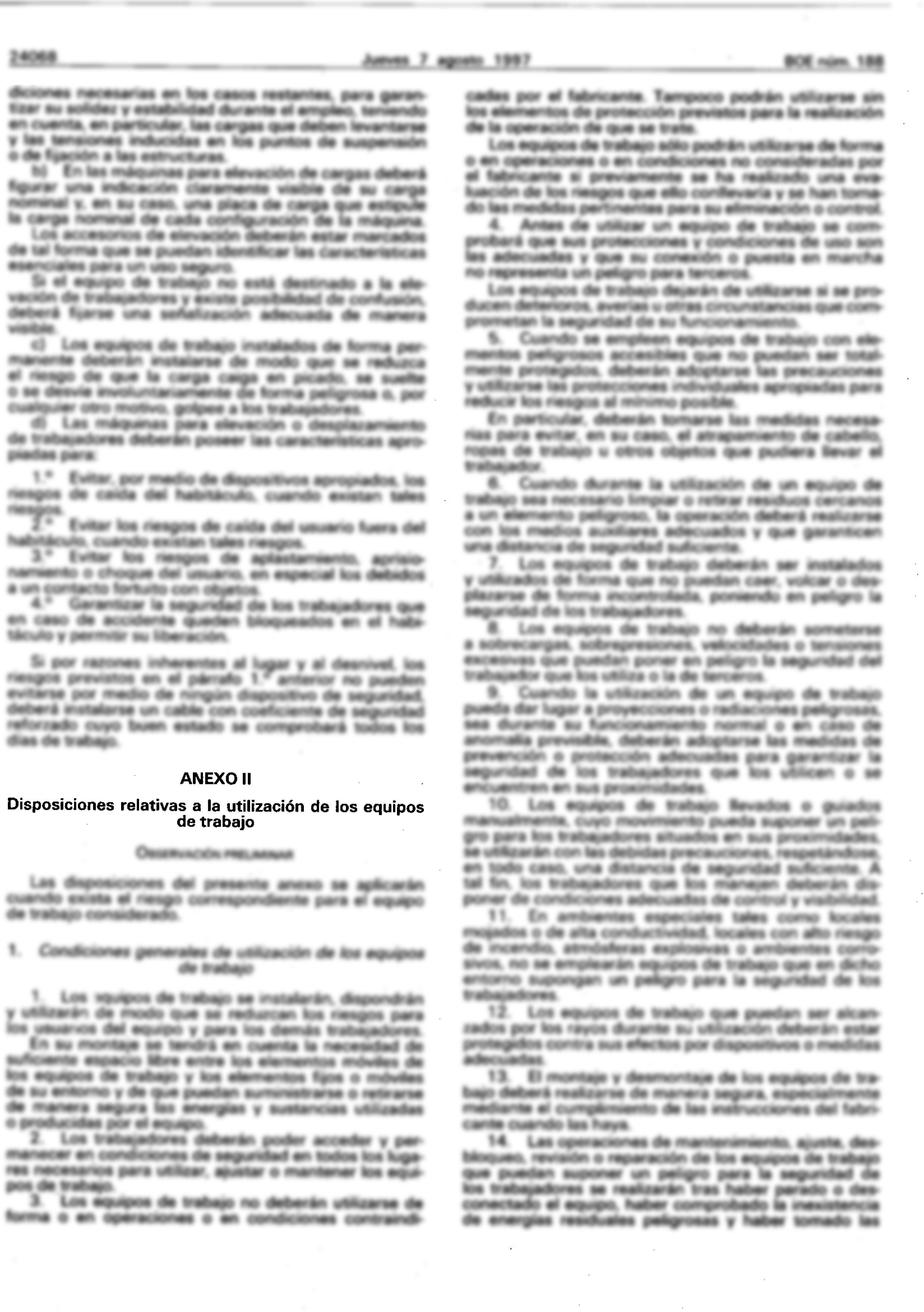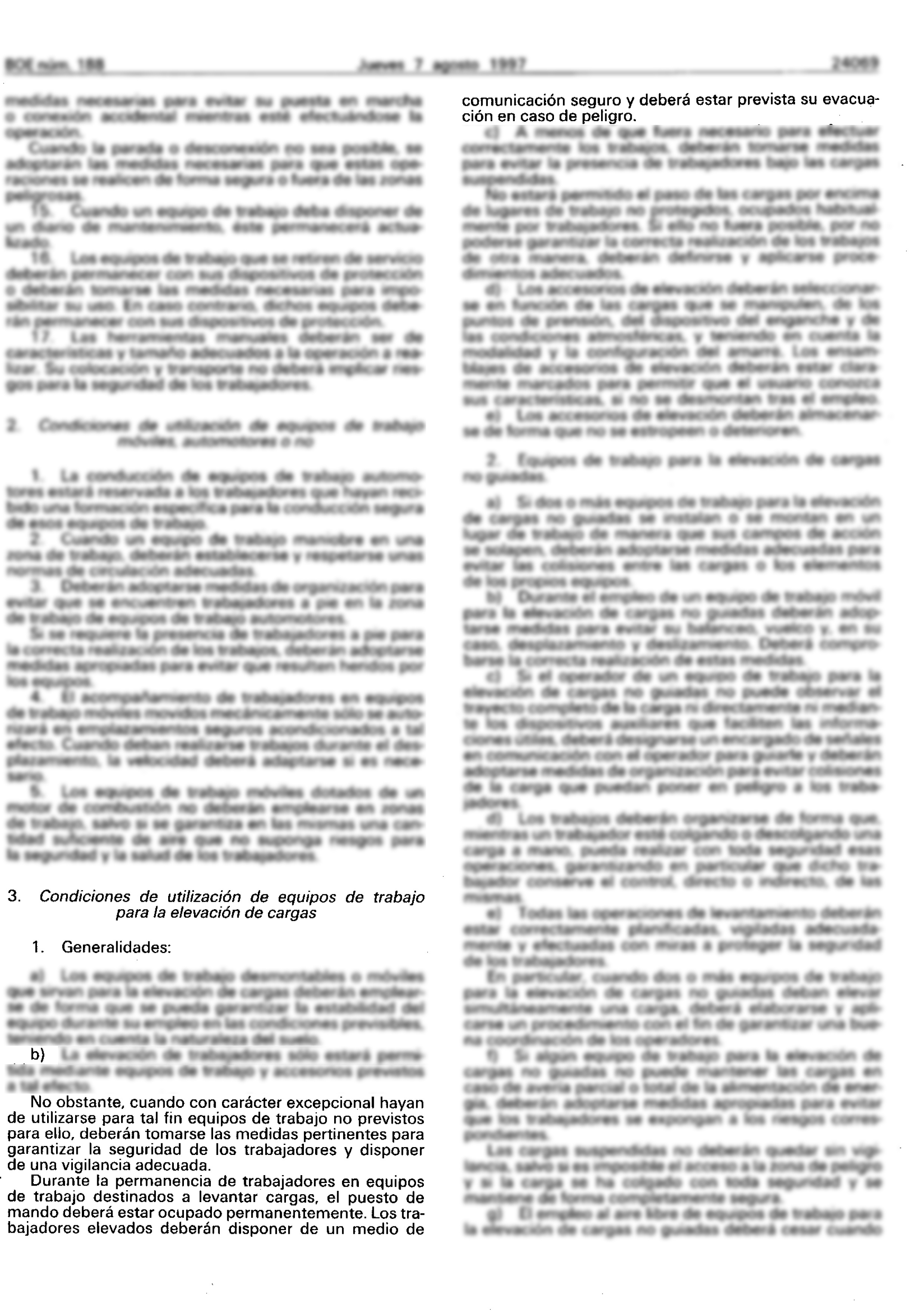 Conditions of use of work equipment for lifting loads:
Generalities:
(b) However, when, exceptionally, work equipment not provided for this has to be used for this purpose, pertinent measures must be taken to guarantee the safety of the workers and have adequate surveillance.
During the permanence of workers in work teams destined to lift loads, the command post must be permanently occupied. Elevated workers must have a safe means of communication and must be evacuated in case of danger.
Thus, we can exceptionally use a crane to lift a suspended basket with people. But what is exceptional use? Let us study the possible situations in the next point.
CONDITIONS OF EXCEPTIONAL USE OF THE CRANE BASKET
We cannot consider exceptional conditions, those routines, repetitive or foreseeable operations, for which a customized solution can be planned and projected.
In these situations, it will always be safer to use a platform designed for this function, following a previously established work procedure and supervised by a competent person.
Thus, they will NOT be cases of exceptionality:
– Lifting people from one level to another
– Repair of public or private lighting
– Access to storage areas for order preparation
– Manual handling of materials at height
– Installation, assembly or disassembly operations at height
– Other work at height, even occasional, for cleaning, maintenance, etc.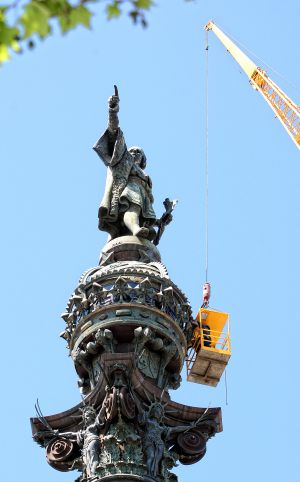 However, we could consider exceptional situations and, therefore, not routine or repetitive, those in which:
– It is technically impossible to use the equipment for lifting people.
– The risks derived from the work environment are greater than those that would arise if we use machines for lifting loads adapted to lift people.
– There is an emergency. For example, the need to evacuate people or make an immediate repair to avoid a possible accident.
It is important to bear in mind that it will be the competent labor authority who has the power to define and/or authorize or not such exceptional use. In no case is the manufacturer of the equipment authorized to do so.
On the other hand, it is evident that in addition to using the equipment correctly, we must take all the appropriate security measures.
In future publications, we will tell you more about suspended crane baskets and what safety measures we should consider for their use.
Stay tuned to our publications for all the details!
ABSTRACT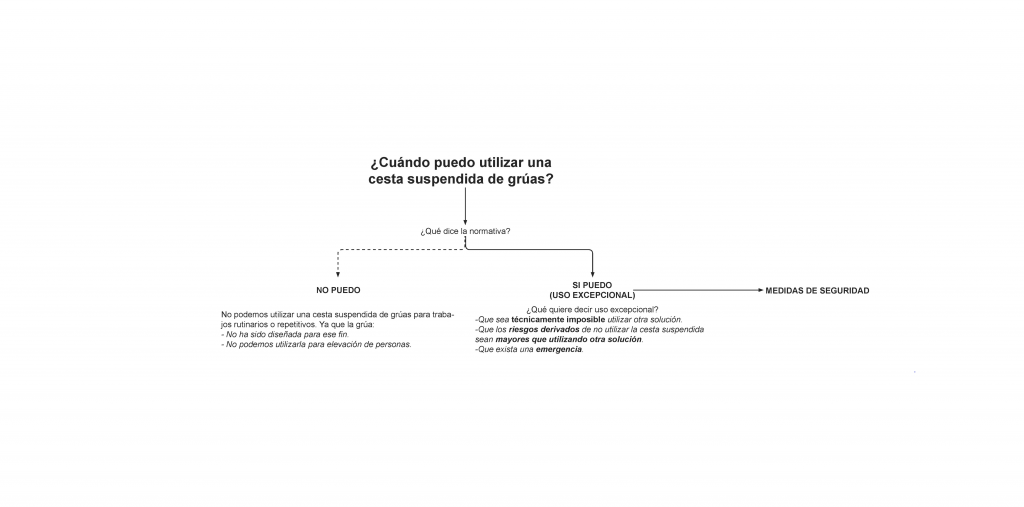 What does the regulation say?
We cannot use a basket suspended from cranes for routine or repetitive work.
It will only be possible to use it in an exceptional way.
What does exceptional use mean?
– When it is technically impossible to use another solution.
– That the risks derived from not using the suspended basket are greater than using another solution.
– The moment there is an emergency.
If you have any questions about this post or want to participate in this line of debate, do not hesitate to leave your comment!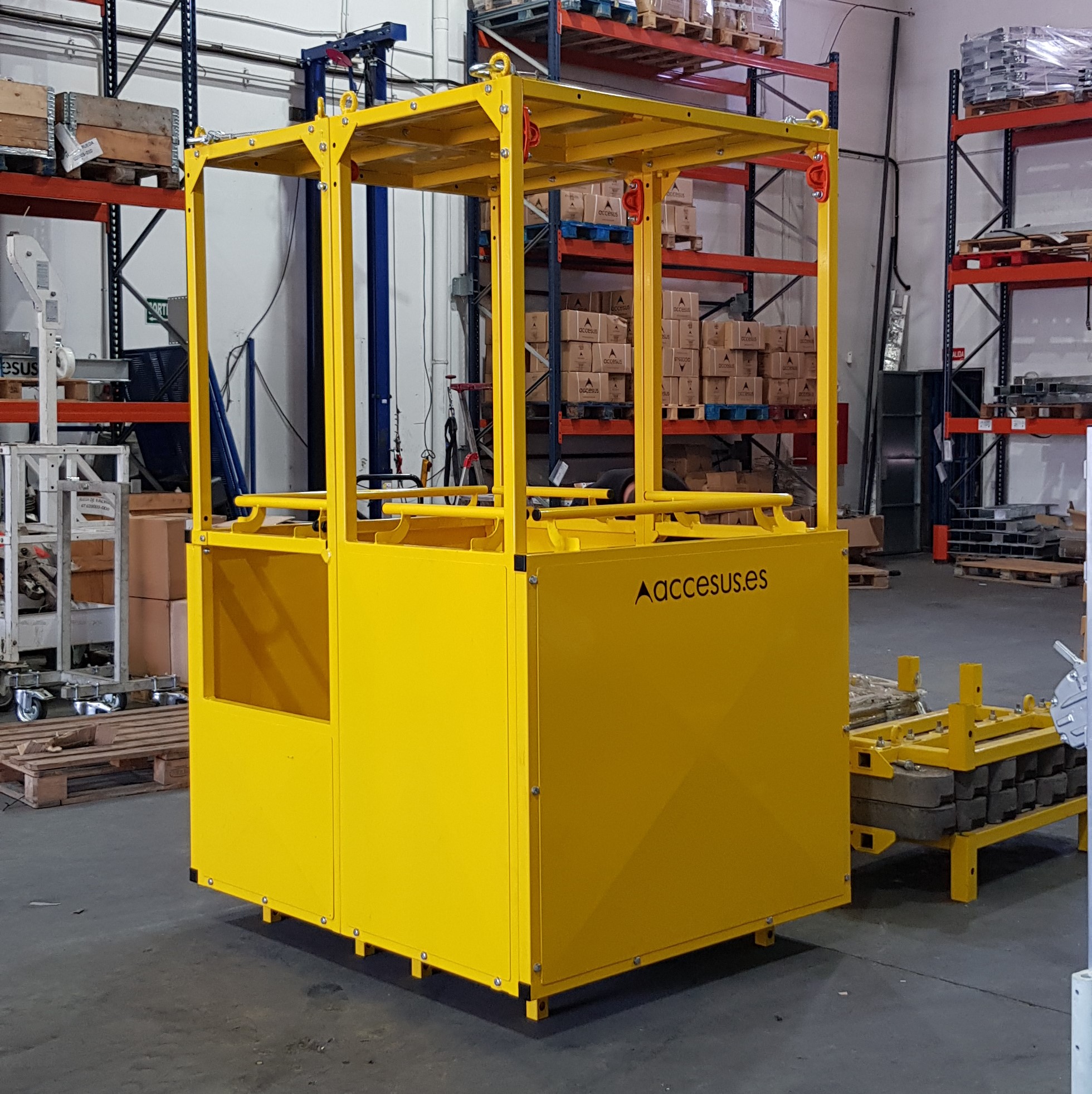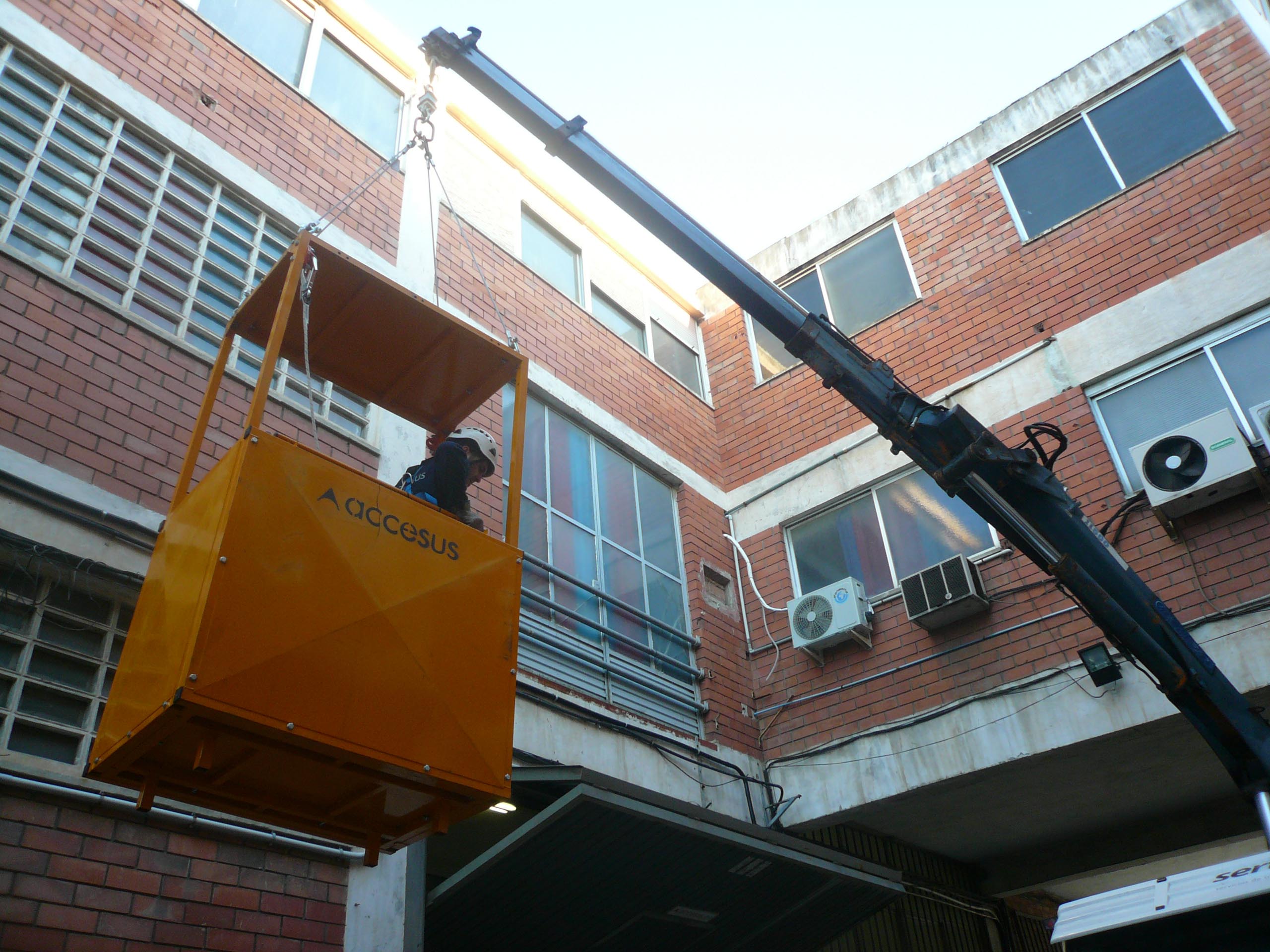 BIBLIOGRAPHY
Real Decreto RD1215/1997, del 18 de julio
Real Decreto RD 1627/1997, de 24 de octubre
FT-373 Technical note for Suspended Crane Baskets